Note from the Center
As April arrives, we look back on the successes of the past academic year at the Center for Social Impact. In addition to record numbers of socially conscious students participating in the Michigan Business Challenge Impact Track and the Social Impact Challenge, we are marking the 15th year of our Board Fellows Program. Our Impact Corps – Academic Year–now in its second year–placed students in eight mission-driven organizations, and other students interned with 33 organizations worldwide. This summer we will stay active, as we have introduced ten new Preferred Internships, and Ross Open Road returns with three teams for the first time.
We wish those graduating a fulfilling career and know you will continue making a positive difference. Thank you everyone, and "Go Blue!"
---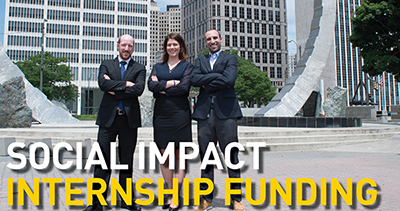 Final Deadline for Summer Fund Interns:
Fri, Apr. 14
For those students pursuing social impact internships, applications for the Center's Summer Fund must be submitted before noon on Friday, April 14.
MBA1s, BBA Juniors, and Ford School graduate students are eligible to apply. Additional program details, requirements, and application materials are available on our website.
Also, this year the Center for Social Impact has partnered with ten organizations to offer competitively funded Preferred Internships for grad students and BBA Juniors. Read the project descriptions here. Faculty Director Michael Gordon describes the new program in this Youtube Video.
APPLY FOR PREFERRED INTERNSHIPS
---
Information Sessions for Nonprofit Organizations
Tues, May 2: 5:30 – 7:00pm @ Ross School of Business
Tues, May 23: 12:00 – 1:30pm @ U-M Detroit Center
Are you a nonprofit organization in Southeast Michigan that is curious about the Board Fellowship Program? The Center for Social Impact is currently recruiting organizations to participate in the 2017-18 program year and will be holding two information sessions in Ann Arbor and Detroit.
Attendees will have the opportunity to learn about the program requirements and hear from a nonprofit leader that is currently participating. Food will be provided.
---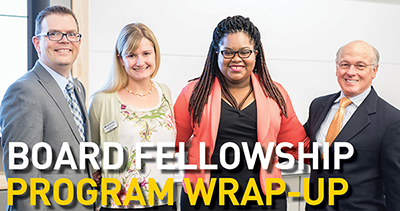 Special Thanks to This Year's Fellows and Nonprofit Partners
Over the next few weeks, graduate students participating in the Board Fellowship Program will be presenting their final project deliverables to our partner organizations. Throughout the year, students have been working on board-level projects focused around strategic planning, governance, or assessment.
Lydia Sorenson (MBA '18) and Sade Richardson (MSW/MPH '17) (center) have been working with John Hale (left) and Ronald Marcinelli (right) at the Salvation Army to revise their strategic plan and improve new board member orientation.
Lydia says "The Board Fellows Program provided us with the opportunity to apply what we've been learning in graduate school to assist a very worthy nonprofit organization. Not only were we able to complete projects that we hope will help the organization, we were also able to be more engaged with the city of Detroit and learn from community members. We look forward to taking the skills and knowledge that we have gained through this experience and applying it as we move forward with our careers."
LEARN MORE AND SEE 2016-17 FELLOWS & PARTNERS
---

Support AIM Tech, Winner of the MBC-Impact Track, with a Like and a Vote
You can help the team win $20,000 to support clinical trials for their innovative infant ventilator for emerging markets. Just watch and like their YouTube video (each "like" increases the chance to win), and vote for AIM Tech in "The People's Choice" prize at the Rice Business Plan Competition. You can check out their website or this recent feature.
---

Forever Go Blue Grants
Submission Deadline:Fri, Apr. 21
The Forever Go Blue Program Grant awards student groups $700 for plans that further giving to charitable projects that benefit U-M. The Forever Go Blue Research Grant awards individual students $1000 for research into citizenship and philanthropy to inspire new approaches to fundraising.
CONTACT CAROLINE REBELLO WITH QUESTIONS
---
Key Events
Summer Internship Funding
Application Deadline
Apr. 14, 2017
Michigan Ross
Commencement
Apr. 28, 2017
Board Fellowship
Information Session
May 2, 2017
Board Fellowship
Information Session
May 23, 2017
---
Community News & Events
---
NOIR S/S 2017 Runway Show
Sat, Apr. 8 @ Crisler Center
NOiR Runway Fashion presents its 18th annual runway fashion show at Crisler Center on April 8. This year, proceeds will go to the The Hip Hop Sisters Network, an organization founded by MC Lyte dedicated to empowering and financially assisting young men and women to pursue education and professionalism in the entertainment field.
---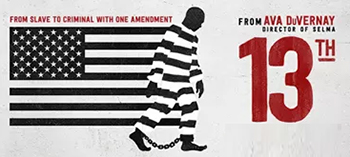 Detroit Center Sankofa Film Series Presents the Documentary "13th"
Fri, Apr. 14, 6 pm @ 3663 Woodward Ave.
The Oscar-nominated documentary 13th–Ava DuVernay's in-depth look at the prison system in the United States and how it reveals the nation's history of racial inequality–will be shown at U-M's Detroit Center as part of their Sankofa Film Series. Following the screening, a guest speaker will lead a brief discussion.
---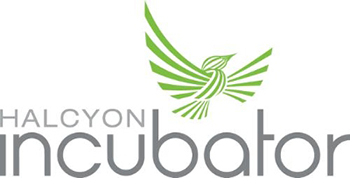 Halcyon Incubator Recruiting Social Entrepreneurs
Deadline: Thur, May 4 @ 5 pm
The Halcyon Incubator is seeking early-stage social entrepreneurs to participate in an 18-month fellowship in Washington, DC that includes five-month residency, 12+ months of free workspace, a $10K stipend, a mentor, and 1,000+ hours of advice.
---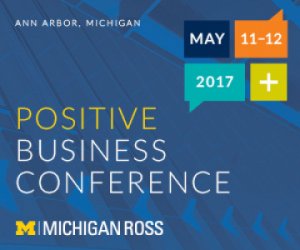 Positive Business Conference
May 11-12 @ Ross School of Business
Be sure to mark your calendars for this unique conference sponsored by the Center for Positive Business at Michigan Ross. Discover the incredible transformation that courageous intrapreneurs and leaders are implementing to build purpose, passion, performance — and profit in their organizations. The theme of this year's event is "Positive Leadership: Practices & Inspiration," to spread knowledge and foster a community of leaders to make the workplaces better places.