Impact Corps Info Session
Today! – 5:30 – 6:30 pm
@ R1240, Ross School of Business
---
Application Deadline: Jan. 19, 2017
Learn about our signature program that allows students to work on high-level, sponsored projects for social impact organizations. If you are a Ross School of Business MBA looking for a challenging, high-level, paid summer internship in a mission-driven organization, then this is your first step in applying for an Impact Corps summer internship.
The session will give an overview of the timeline and application requirements, and past participants will share their experiences.
---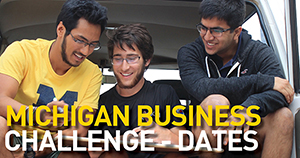 Impact Track – Michigan Business Challenge
With 107 applications received on Nov. 14, the Michigan Business Challenge is underway! In November, we led a workshop on Ecosystem Mapping, which is a requirement for all Impact Track and Social Impact Challenge participants.  In addition to a number of workshops offered in December for teams, we would like to highlight some key dates of interest to Impact Track participants:
Round One
Fri, Dec. 2, Noon – 5 pm @ Ross School of Business
Join us for Round One to hear team pitches before a panel of judges.
Startup Workshop: Impact Assessment
Thurs, Dec. 8, 5:30-7 pm @ R1220
This workshop offers approaches to and tools for doing a impact assessment, which is required for all Impact Track participants.
Round Two
Fri, Jan. 20, Time TBA, @ Ross School of Business
Competing teams give a seven-minute presentation that describes their company's solution to a pressing market need or pain, an estimation of the market size, and their financial assumptions.
Hosted by the Center for Social Impact in partnership with the Zell Lurie and Erb Institutes, the Impact Track supports the creation of new businesses, products, or services that advance social and/or environmental impact.
---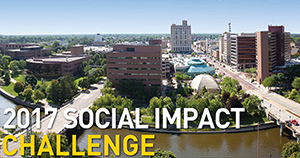 A Sneak Peak at the 2017 Social Impact Challenge
Team Matching – Coming mid-December
Kick-off & Site Visit – Coming mid-January
As we previously announced, the 2017 Social Impact Challenge will take place in Flint! The Center is teaming up with the University of Michigan-Flint to offer this opportunity.
In addition grad and undergrad students from U-M's main campus, this competition will also be open to UM-Flint students. Teams will begin forming in mid-December. Check our website or call for further details then.
In mid-January, there will be two preview events–one at UM-Flint and one at Ross.  At each event, participants will share and explore approaches to social entrepreneurship and employment challenges in Flint at the grassroots level. There will also be speed networking opportunities to find Challenge teammates!  Watch for info on these events and the Flint site visit, coming soon!
---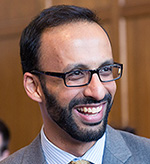 A fond farewell to Rishi Moudgil
After founding and serving as Managing Director for the Center for Social Impact, Rishi is moving on from Ross after many years of service.
We want to thank Rishi for his leadership and strategic insight since the creation of the Center, his service to the students, and his skill at engaging community partners who care deeply about social impact. The work will continue, and much of Rishi's foundational vision is our guide. We wish him the best in his future endeavors.
We will be holding an informal farewell reception for Rishi in B1590 (Corner Commons), on the first floor of Blau Hall on Mon, Dec. 5 from 4-6 pm. Light refreshments will be served, and it is open to all. Please RSVP for our headcount.
---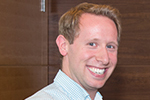 MBA1 Scholarship due Dec. 15
First year MBA students are eligible for $5,000 to support their pursuit of social impact through the Center's Skip and Carrie Gordon Scholarship. Applications are currently being accepted from MBA1s now, and must be submitted before Dec. 15.
---
Key Events
Impact Corps
Dec. 1, 2016
Michigan Business Challenge
Round 1
Dec. 2, 2016
Dec. 8, 2016
Social Impact Challenge
Kickoff
mid-January TBA
Michigan Business Challenge
Round 2
Jan. 20, 2017
---
Community News & Events
Fri, Dec. 2, Noon – 6 pm @Rogel Ballroom, Michigan Union
Net Impact @ Ross
is hosting an afternoon Career Symposium entitled "
Working with Purpose
," at which students and members of the community can hear from alumni who are using their careers to make a social impact. Students will participate in a hands-on career workshop with a networking reception to follow. This event is co-sponsored by the Center for Social Impact, and requires an
RSVP
.
---
 
Global Social Venture Competition
Round One Application due: Mon, Dec. 5
The Global Social Venture Competition
(GSVC) empowers the next generation of social entrepreneurs by providing them with mentoring, exposure, and over $80,000 in prizes to transform their ideas into ventures that address the world's most pressing challenges. The competition occurs over three rounds.
Apply
online.
---
 
Emerging Markets Conference
Dec. 9, Noon – 5 pm, @ B1580 & N1590, Ross School of Business
This conference will highlight the Base of the Pyramid (BOP) model and showcase opportunities in emerging markets around the world. The aim of the conference is to educate attendees about business and cultural differences across markets. Confirmed speakers include Manoj Bhargava, CEO of 5 Hour Energy; Gillian Henker of Sisu Global Health; Dr. Snait Fisseha of the Ethiopian N. American Health Professionals Assoc.; and Professor Gautam Kaul.
Register
online.
---
 
Jumpstart Grants Application
Round 3 Applications due Sun, Jan. 15
The Provost-funded Center for Entrepreneurship
Jump Start Grant Program
provides financial support to undergraduate and graduate students to help them achieve their entrepreneurial ambitions and develop their skills and ideas. These grants include funding for prototyping, legal, and travel needs, mentorship, and resources from the CFE.
Apply
online.
---
 
U-M MLK Symposium
Mon, Jan. 16
Be involved in one of the largest University celebrations honoring the life and work of Dr. King. Throughout the month of January, the 
MLK Symposium
provides the community with opportunities to participate in lectures, performances, projects, and workshops. Student organizations that are interested in
hosting an event
for the Symposium should submit an event form found on the website.