Innovative Strategies for Board Engagement
It can often be difficult to create a thriving and engaged nonprofit board culture. In fact, a McKinsey survey found that only 17% of nonprofit boards believe that they are as effective as possible. Come to our Board Fellows Forum (open to the public) on Tues, Feb. 7 to hear about innovative ways non-profit organizations are working alongside their boards to increase engagement.
Attendees will hear from the following panelists who are implementing innovative strategies to help their boards thrive:
Food will be provided, so please RSVP.
---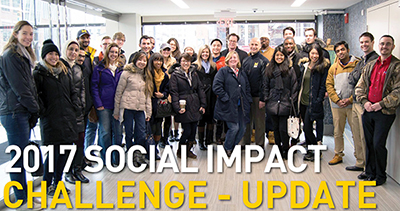 Team Registration Still Open for Social Impact Challenge in Flint
---
Last week, the Center kicked off the 2017 Social Impact Challenge, which is taking place in Flint, MI this year. Multi-disciplinary teams from across campus and between U-M's Ann Arbor and Flint campuses will pitch to executives and Flint leaders for potential implementation and a $2500 prize.
Partners include UM-Flint Outreach, the City of Flint, and Skypoint Ventures. This year's challenge is focused on economic development and entrepreneurship between downtown Flint and its neighborhoods. Interested students can read the case statement (pdf) here.
On Tues. Jan. 24, students came to the Ann Arbor Kickoff (see photos). On Fri, Jan. 27 students visited Flint (see photos) and heard from people from the Flint City Planners Office, UM-Flint's [IN] on the Road, a local entrepreneur, Skypoint Ventures, and the Small Business Development Center. This year's Social Impact Challenge Finals will be Wed, Mar. 15 at the Flint Institute of Arts.
---
Four Michigan Business Challenge – Impact Track Teams Move To the Finals
---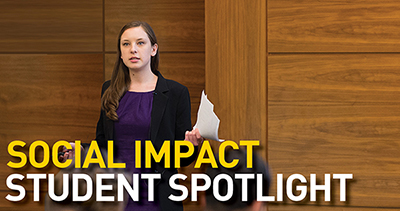 Karen Yocky (MPP/MBA '18) Seeks to Make an Impact Wherever She Goes
---

Fri, Feb. 10 – Sat, Feb. 11
@ Ross School of Business
In its 41 years of existence, this conference has engaged attendees around the issues, challenges, and opportunities encountered by underrepresented minorities in the business world. It has historically attracted hundreds of attendees from around the country, including current and prospective students, Ross alumni, industry leaders, and corporate recruiters. This year's conference is titled "Breakthrough to Excellence: Investing in You and Your Community."
---

* Mon, Feb. 13, Noon @ Hutchins 218
* Wed, Mar. 15, Noon @ Taubman School
* Thur, Mar. 23, Noon @ UMSI Engagement Center
Attend one or all of these interactive, interdisciplinary workshops facilitated by the UM Ginsberg Center, to learn the nuances of professionalization, communication, power differences, intercultural awareness, and developing cultural humility to enhance your skill set.
---
Key Events
---
Community News & Events
---

Sun, Feb. 5, 11:59 pm CET
Humanity in Action
announces a new fellowship program in Detroit! HiA Fellowships facilitate a collective exploration of the social and political roots of discrimination and provide a forum for discussion. Applicants need to be open-minded, widely interested, willing to take over societal responsibility and committed to promoting human rights, pluralism, diversity and active citizenship.
---

Fri, Feb. 10, 6 pm @ UM Detroit Center
Visit the Detroit Center for five thought-provoking and insightful films, each featuring noted speakers/panelists, as well as refreshments. The first film in the series, "Two Societies" explores the story of the 1967 Detroit Rebellion in the context of everyday personal life.
---

Fri, Feb. 17, 5:30 – 7 pm
@ Robertson Auditorium, Ross School of Business
Co-created by Sanger Leadership Center and Ross Design + Business Club, these events help Ross students gain firsthand experience leveraging the power of story to embody shared ideals. A select group of students will attend a retreat at the Innovatrium and then wrap it up with an exciting community celebration, Ross Diaries, featuring an evening of storytelling with students, faculty, and alumni.
---

Mon, Feb. 13
Education Pioneers
is accepting applications for its
Career Track
fellowships and its
Summer Track
fellowships with leading educational organizations. Fellows participate in leadership development programming alongside a cohort of diverse peers designed to build the mindsets and K-12 knowledge necessary to become a change agent in education. Submit the
application
for these fellowships by Mon, Feb. 13.
---

Wed, Feb. 22, 10 am – 1 pm @ Institute for Social Research Building
The Institute for Social Research is hosting a workshop, "Racism at the Intersection" The program welcomes rising and leading anti-racism scholars who are innovative in their conceptualization and/or measurement of racism's impact on the individual, community, and society. Topics of presentation and discussion include: the racialization of immigrants, particularly Hispanic and Muslim Americans; the intersection of race, gender, and sexuality; the measurement of intersecting identities; and the role of colonialism and racialization.
---

Thurs, Mar. 2 @ Motor City Casino Hotel
Registration is open for the 2017 Detroit Policy Conference: Reigniting an Innovative Spirit. Sponsored by the Detroit Regional Chamber, the conference will highlight and celebrate Detroit's ongoing economic resurgence by bringing together over 600 key business, community and political leaders.
---

Fri, Mar. 10
Made at Michigan
is a digital and print magazine that highlights the best up and coming ventures created and formed at the University of Michigan. For reference, you may view
last year's digital magazine
. To be considered for this magazine, student ventures should
apply
by Sun, Mar. 26, though applications will be reviewed on a rolling basis.
---