Congratulations to This Year's Summer Internship Recipients
The Center is giving internship funding and support to 40+ students through the Summer Fund, Impact Corps, and new Preferred Internships.
We extend a warm welcome to the 2017 intern cohort!
Summer Fund:
Peter Blank (MPP) City of Detroit Mayor's Office
Katherine Blessing (MPP) City of Detroit Mayor's Office
Ava Damri (MBA) REDF
Martha Fedorowicz (MPP) City of Detroit Mayor's Office
Savenaca Gasaiwai (MPP) Pacific Islands Forum Secretariat
Alexander Gonzalez (BBA) Innovation Studio at the U-M School of Public Health
Colleen Hill (MBA) Room to Read
Eric Krostich (MBA) Rocky Mountain Institute
Ryan Moonka (BBA) City of Detroit Mayor's Office
Shen Ni (MBA/MPP) City of Boston Department of Innovation and Technology
Natalie Peterson (MPP) City of Detroit Mayor's Office
Michelle Rubin (MPP/MUP) City of Detroit Mayor's Office
Ivy Tran (MPP/MAE) City of Detroit Mayor's Office
Charisse Wilkins (MBA/MPP) George Kaiser Family Foundation
Carmen Ye (MPP) Penn Center for Minority Serving Institutions
Allison Zimmerman (MBA/MPP) WinWin
Impact Corps Interns:
Alexander Ho (MBA/MS) Environmental Defense Fund
Mark Green (MBA/MS) Environmental Defense Fund
Preferred Internships:
Iuliana Bleanda-Mogasanu (MBA/MS) Cooperative Business Ventures
India Solomon (BA) Ashoka
Victoria Chapin (BBA) Focus: HOPE
Linh Nguyen (MBA) Global Fairness Initiative
Adam Wilson (MBA) Urban Ashes
Andrew Hatfield (MBA) Torrent Consulting
---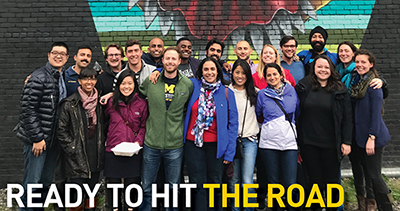 Ross Open Road Kicks off
Three teams sponsored by the Center for Social Impact and Zell Lurie Institute have embarked on road trips across America this month. They will work with social entrepreneurs around the country to bring innovative solutions to the challenges they're facing.
It's part of Ross Open Road, an action-based social entrepreneurship program developed by Ross students. The aim of the program is to give functioning social enterprises extra help in solving complex challenges, and to help students gain firsthand experience in this business space.
Team OKRA (Ozge Sahin, MBA '18; Kevin Jones, MBA '18; Ravi Patel, MBA '18; Ava Damri, MBA '18) will travel from Detroit through Fargo to Los Angeles and focus on food and technology:
Team RAZA (Ryan Schell, MBA '18; Ariana Almas, MBA '18; Zach Friedman, MBA/MS '19; Athena Stevenson, MBA '18) will head through Chicago and North Dakota on their way to Montana:
Team WCKD (Wiles Kases, MBA/MS '18; Colleen Hill, MBA/MS '19; Kenji Kaneko, MBA/MSI '18; Dilparinder Singh, MBA '17) will head south to New Orleans and west to Denver, focused on food and community development:
Learn more about this year's program
Track them on Twitter by searching #RossOpenRoad
---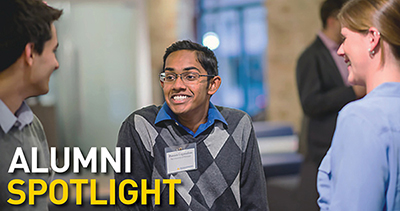 Praveen Loganathan (BBA/B.Ed. '17) Fuses Entrepreneurship with Education
At the same time he was championing social impact learning at Ross and new teacher training at LSA, Praveen Loganathan also partnered with one of his dorm mates to create their own business called InFusion Technologies. The resulting device allows homes with solar panels to run on hydrogen technology. And that's only part of this newly graduated BBA's whirlwind experience while at U-M. Read the full interview on our website.
---

Information Sessions for Nonprofit Organizations
Tues, May 2 @ B1590 Ross
Tues, May 23 @ U-M Detroit Center
Are you a Southeast Michigan nonprofit interested in learning more about our Board Fellowship Program? Come out to our Info Session tonight at Ross School of Business, or May 23 at the Detroit Center to learn more about program requirements and hear from a nonprofit leader currently participating in the program.
RSVP Now
Thanks to all of the Board Fellowship partners with whom we worked in 2016-17.
---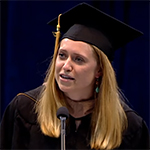 Ross Graduation Highlights
On Friday, April 28, Michigan Ross hosted the class of 2017 at the Crisler Center for commencement. One of our most engaged students, Brianna Brazell, was a commencement speaker. During her speech, she reminded us, "If it doesn't challenge you, it doesn't change you." We will miss all the graduates who were participants in the social impact space, and we wish them the best. View the video of the Ross commencement.
---
Key Events
Board Fellowship
Information Session
May 2, 2017
Board Fellowship
Information Session
May 23, 2017
---
Community News & Events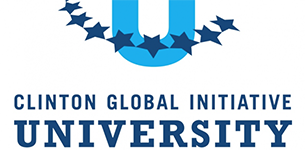 Deadline: May 10
As part of the Clinton Foundation's CGI U meeting in October, over $750,000 in funding will be made available to select CGI U 2017 students to help them turn their ideas into action. To be considered for admission, all applicants are required to design a Commitment to Action in one of CGI U's five focus areas: Education, Environment and Climate Change, Peace and Human Rights, Poverty Alleviation, and Public Health. The final application deadline has been extended to 11:59 PM on May 10, 2017!
---
May 11-12 @ Ross School of Business
At Ross' Positive Business Conference, attendees engage with thought leaders and the latest research on positive business approaches that yield extraordinary results. Attendees from diverse industries participate in practical hands-on workshops. The conference yields a tangible plan for translating inspiration into action.
---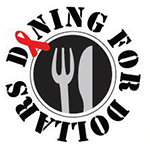 May 17 @ Ann Arbor City Club
Join community leaders, business supporters and friends for a night of festivities at Unified HIV Health's 22nd annual fundraiser. Our board fellows partner will sponsor this night of dining, silent auctions and raffles to support care and prevention programs in Southeast Michigan's only HIV/AIDS service organization.
---
May 22-26 @ Various Locations around Detroit
Startup Week is a five-day celebration of Detroit. Join community leaders and artists in a new type of conference that builds momentum and opportunity around start-ups, led by entrepreneurs and hosted in their spaces all over town. The event reflects the community's hard work and unique creative identity.
---

May 22-25 @ Detroit Cobo Center
Moving this large conference to Detroit in 2017 is no happy accident. As a city that has weathered economic downturn and followed it with stunning revitalization, Detroit is a city of innovation where businesses and communities are igniting a collective conversation around redefining the good life and sustainability. Our sister unit, the Erb Institute has played a significant role in the planning of this event.